SWIMMING AND SPA POOL PUMPS
A correctly sized swimming or spa pool pump is vital in allowing your pool or spa water to be filtered correctly with the end result being sparkling, clear water. Filtermaster pumps have been developed through the application of the very latest in pump technology to provide efficient and totally trouble free performance in spa or pool use.
We supply and install only the best in equipment available. The Filtermaster range of pool pumps are of the highest quality and come with a two year warranty.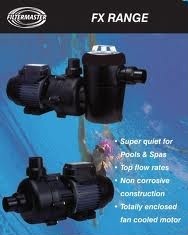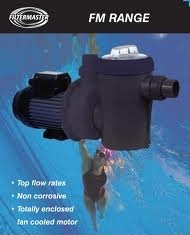 SWIMMING AND SPA POOL FILTERS
Good filtration in a swimming or spa pool is essential in maintaining healthy, crystal clear water. The correct size and type of media filter, based on application, the size of your pool or spa, together with correct running time, will ensure that your pool or spa will be filtered correctly. We recommend Filtermasters EcoPure High Rate Sand Filters which require little ongoing maintenance compared to other types of filters allowing you more time to enjoy swimming in your pool rather than looking after it.
EcoPure Sand Filters are manufactured with high grade fibreglass and resins utilising the latest engineering techniques ensuring high quality and superior strength for long life and durability. This range of sand filters come with a 1 year warranty on the multiport valve and pressure gauge and 10 year warranty on the filter tank.
For further information on this range of equipment including pricing please contact us