Painting
MAKING YOUR POOL LOOK AS GOOD AS NEW
SWIMMING POOL AND SPA POOL PAINTING
Specialist Pool Services Ltd. paint all types of swimming and spa pools both commercial and privately owned. We are approved applicators for EPOTEC, a high build epoxy paint manufactured in New Zealand by Coating Technologies Limited. Our years of experience in pool painting together with a wealth of knowledge necessary in preparation and application ensures a high quality finish, that if looked after correctly will last for many years.
The advantages of painting your pool or spa are:
Decorative
Seamless
Easy to clean
Long lasting
Compared to Tiles, paint offers a seamless finish, no tile joints to get dirty, no tiles to fall off. Compared to an Aggregate finish (which cannot be refurbished), paint has no rough surfaces to scratch the skin, and a smooth finish for easy cleaning.
When selecting your pool paint there are two types.
Single pack, such as Chlorinated Rubber and two pack Epoxy.
To distinguish between them:
| | |
| --- | --- |
| Chlorinated Rubber | Epoxy |
| Limited colour range | Extensive colour range |
| Lasts 2-3`years | Lasts 7-10+ years |
| Single pack | Two pack |
| Higher cost per year | Lower cost per year |
| Easy to recoat | Need to sand to recoat |
| Chalks (whitens) | Yellows slightly to UV exposure |
| Soft surface | Hard surface |
| High solvent content (smelly) | Virtually solvent free |
Coating Technologies Ltd, manufactures both types of "pool paint." The epoxy, called Epotec, out sells the Chlorinated Rubber paint by many times, due to its longer lasting, harder wearing features. The Epotec epoxy has proven to be the best, long term pool paint in NZ, with over 25 years performance.
Epotec Colours
These are Epotec standard colours. They can also produce non standard colours, please contact us for details. Black and White are also available.
These colours are approximate only and actual colours will be different in intensity and shade. This is due to the limitations of the computer screen you are viewing and when in the pool. In the empty pool the internal reflections will intensify the colours. When the pool is full, it will reflect the colours of the sky, turning even dark greys to a blue colour.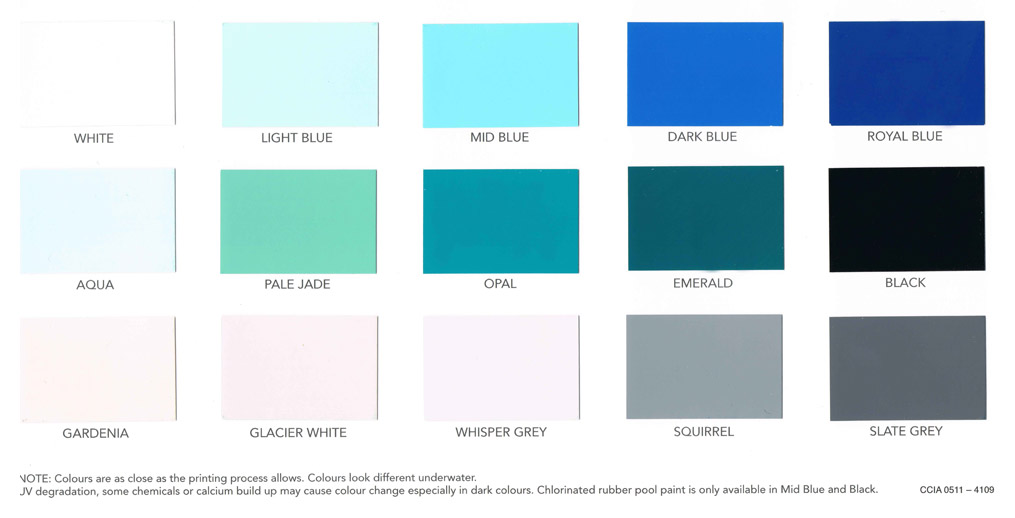 We offer a two year warranty on materials and labour.
Please see Our Gallery to view some of our completed projects.
Contact us for further information, a brochure or to organise a free no obligation quote.