SALT CHLORINATORS
The Natural Solution For Your Pool
Swimming Pool Salt Chlorinators use low levels of swimming pool grade salt which is electrolyzed to sanitise your pools water. This environmentally friendly process converts the sodium in the salt to chlorine naturally, eliminating the need for regular additions of chlorine.
Our salt chlorination systems are sourced to suit New Zealand conditions. From economical standard 20 amp and 30 amp salt chlorinators, to the more advanced self cleaning and automatic pH control units, we can supply or supply and install a unit that is right for your pool.
All units come with Filtermasters 2 year warranty on power supply and salt cell.
TABLET FEEDERS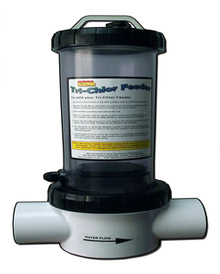 The most economical type of chlorine dosing unit. Automatic Inline Trichlor/Bromine feeders provide a continual supply of chlorine or bromine to your pool or spa while the pump is running. Poolmaster Tablet Feeders are fully adjustable so you can adjust the chlorine or bromine output to suit your requirements.
Simply fill the feeder and top up as the tablets dissolve.
Features:
Positive external fine-control valve lets you adjust the feed rate to meet pool or spa demand
No special venting required
Completely enclosed system - no escaping fumes
Holds up tp 10 Tri Chlor tablets or 2kg of Bromine
Can treat 1000 litres to 120,000 litres
Top loading for ease of adding chemicals
Safe for public or residential pool, spa or hot tub use
For any enquiries or for more information please contact us.